Lifeline News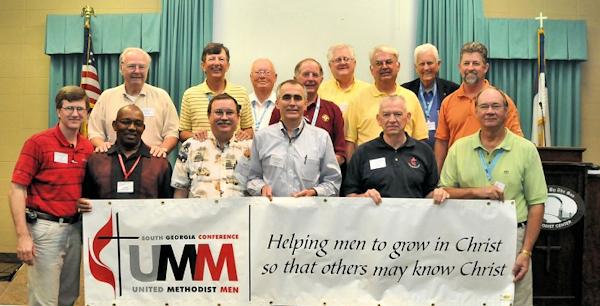 Above, Members of the UMM spring retreat leadership gather together at Epworth By The Sea on St. Simons Island. Pictured in the front row are, left to right: Ted McCullough, Johnny Hemingway, Don Barnes, Sidney Lanier, Clate Ralston and Larry Price. Pictured in the back row are, left to right: David Ellis, Carl Childs, Roy Lifsey, Chuck Cowart, Horton Griffin, Gene Trulock, Taylor Phillips and Jerry Perkins. (Photo Courtesy Of Ted Mccullough)
South Georgia United Methodist Men meet at Epworth
Submitted by Sidney Lanier, UMM director of public relations
The United Methodist Men of the South Georgia Conference held their annual spring retreat April 16-18 at Epworth By The Sea on St. Simons Island. Meeting under the theme of "Living by Faith," Bishop James R. King, Jr., Episcopal leader of the South Georgia Annual Conference, and Dr. Rick Lanford, president of the Methodist Home for Children and Youth Foundation, were the featured speakers for the weekend. The Pilgrimage Band provided the weekend's music.
Bishop King brought encouraging words to the men on Friday evening and on Saturday morning. He spoke from the book of Judges, specifically focusing on the story of Sampson. Bishop King said that, like Sampson, the men of the South Georgia Conference may also be strong for God. His message and challenge was to "Stay Grounded" in the will of God.
"Daddy" Rick Lanford brought the message on Saturday evening and Sunday morning. He spoke from the New Testament, focusing on chapter four from the book of Matthew, and challenged the men to be "Fishers of Men." Using fishing tackle as a prop to illustrate that men may need to update their own fishing gear to catch "fish," Dr. Lanford concluded his message with a story from John 20.
The weekend's worship music was provided by the Pilgrimage Band from Columbus. Alan Gates, Jonathon Gates, Cliff Brewer, and Kenny Comeaux make up this bluegrass gospel band, and they have a strong Christian witness to go along with their picking, grinning and singing.
>The retreat attendees met early on Saturday and Sunday mornings to worship at Epworth's Lovely Lane Chapel. Horton Griffin, prayer advocate for the South Georgia United Methodist Men and president of Lifeline Ministries, gave his personal testimony on Saturday morning. Jerry Perkins, Americus District UMM president, gave his personal testimony on Sunday morning.
On Saturday afternoon, the men traveled to inner city Brunswick to participate in service projects. One group of men worked to clean up a garden plot while another group of men helped clean the yard of a local community organizer. The men learned that the area of Brunswick in which they were serving is often referred to as Samaria, and were encouraged to return home and organize mission trips to the "Samaria" in their communities.
Dr. Langford administered communion on Sunday morning to signify the end of the retreat and challenged the men to go out, witness the Gospel to someone, and bring them to the retreat next year.
---
Lifeline Ministries, Inc.
525 S. West Street, Bainbridge, GA 39819
Phone 229.228.5051 Fax 229.246.8007
---